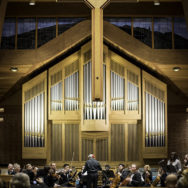 We can't say thank you enough to our delightful audience that braved the cold for the second concert of our 2017-2018 season. La Dolce Vita! delighted attendees at the beautiful First Evangelical Lutheran Church in Ellicott City, MD. As always, it was our honor to have your eyes, ears, and hearts as we warmed the stage with music on a chilly winter evening. It is our sincerest hope that you took joy in the performance and, in case you missed it, we've provided a gallery of photos from the night's festivities below.
In addition to our wildly talented musicians, the Howard County Concert Orchestra was joined for La Dolce Vita! by an overwhelming amount of talented guests and guest artists, including: our narrator, WBJC's Jonathan Palevsky, mezzo soprano Denée Barr, violin soloist Lauren Yoon, and the very talented youth members from Dance Connections, Inc.
And what Italian evening would be complete without a bite to eat? The Orchestra extends its warmest thanks to Tino's Italian Bistro for providing a delicious sampling of some famous Italian sweets, and our heartfelt gratitude to First Evangelical Lutheran Church for graciously extending its fellowship and facilities.
Whether you loved every minute or regretted missing out on La Dolce Vita!, we welcome you to attend our final concert of the 2017-2018 season – From Tragedy to Triumph – on April 29 (4pm) at UMBC's Linehan Concert Hall in Catonsville, MD. Tickets are available for purchase in advance and at the door – we hope to see you there!